Kerala Breakfast, Lunch and Dinner Menu
Here is a Menu for Kerala Breakfast, Lunch, Snacks and Dinner. I go for these dishes when my relatives or Keralite friends come home. Some people can be very choosy and picky. They may prefer Kerala dishes over Contemporary dishes like Fried Rice, Chilly Chicken and so on. That's when I put all my efforts in making the best dishes from Kerala Cuisine.
If you wish to arrange a Kerala style party at home for your friends, then you can choose the dishes from the following Menu. These are the dishes which are served mostly for Kerala Weddings, Parties and other special occasions like Christmas, Easter and so on.
Please select the Category from the following:

Lunch or Dinner
Vegetarian Banquet (Sadhya)


Non Vegetarian Banquet
Here are few traditional Kerala Breakfast items. These are usually served with Vegetarian Chutneys and Curries. When you have guests or for special occasions, you can serve Breakfast with Non Vegetarian dishes like Fish Molee, Chicken Curry and so on.

Side Dish for Breakfast
A normal Kerala Lunch consists of Plain Boiled Rice served with Vegetarian gravies and side dishes. A few non vegetarian dishes are also served occasionally.
Many Keralites prefer a traditional Vegetarian Banquet or Sadhya for weddings and special occasions. Vegetarians can visit this page for a complete traditional Kerala Vegetarian Sadhya.
On the other hand, modern day Wedding Parties and Special Occasions consist of three or four courses like Appetizers, Bread and Curry, Plain Rice or Biriyani, and Desserts. It can be vegetarian or non vegetarian.

1. Appetizers
Cutlets form the main appetizer for any Kerala Christian Wedding or Party. Kappa or Tapioca/Yuca is also served as an appetizer.

2. Kerala Style Bread with Curry
After appetizers, the next round begins with a Kerala style Bread like Palappam, Vellayappam or Idiyappam served with a nice vegetarian or non-vegetarian curry. For many weddings and parties, after the round of Appams, Bakery Bread (Rotti) is served with another side dish.
Kerala Breads

Kerala Porotta
Rotti (Sliced Bakery Bread)
Dinner Roll

Gravies or Curries for Kerala Style Bread
Main Course is usually Plain Rice served with one main Gravy (Chaaru Curry), one or more Vegetarian Sides, and one or more Non Vegetarian Sides. In addition to rice, you can also have Tapioca (Kappa/Yuca). On special occasions, Biriyani, Pulav or Ghee Rice is served along with side dishes. Depending on the occasion and the guests you can decide the items.
Plain Rice

Side dish for Biryani
If you are making Chicken Biriyani, then you can chose a side dish like Fish Fry or Beef Fry. If your making Fish Biriyani or Egg Biriyani, then Chicken Fry will be a good choice. Remember to serve a Raitha, Pappadam and Pickle with the Biriyani.
Side Dish for Tapioca (Kappa) and Pidi

The most common combination is Tapioca and Fish Curry. You can also have Chicken Curry or Beef Curry with Tapioca.
Side dish for Ghee Rice/Pulav

Ghee Rice is usually served with a spicy Non vegetarian Gravy like Mutton Curry, Chicken Curry or Beef Curry. The side sih should have lots of gravy to complement the Ghee Rice.
Gravies or Curries for Plain Rice
Plain Rice is usually served with a nice Gravy or Chaaru Curry.
Non Vegetarian Side Dish and Curries for Rice
Vegetarian Side Dish for Rice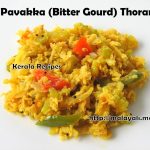 SNACKS
Pazham with Pani