Wishing all of you a very Happy Christmas!!!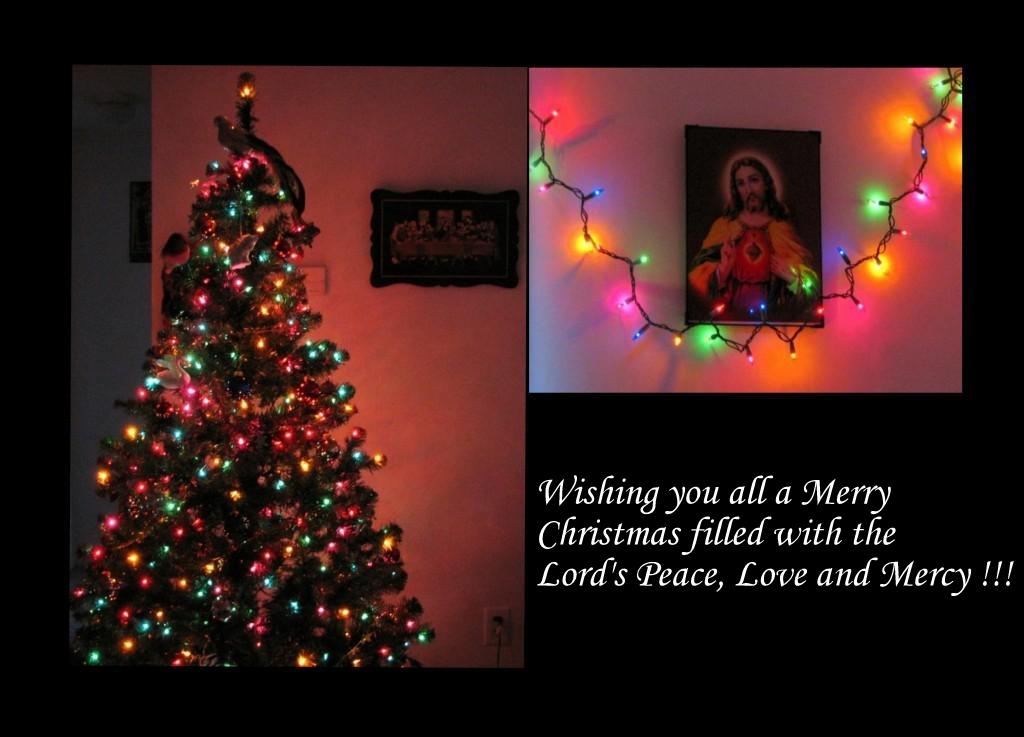 Christmas is around the corner and I am missing my parents, my home and God's Own Country – Kerala. Christmas used to be a family reunion time and it was always filled with good memories. We spent our Christmas Holidays writing Greeting Cards, making Cribs, decorating the house with lights, hanging glowing Stars outside the house and attending the Christmas Midnight Mass.
Now that Advent Season is here, let us not forget to prepare spiritually for the birth of Jesus along with all the celebrations of the holiday season.
Most of us would be busy planning for the Perfect Christmas Party for family and friends. Well, here is a Christmas Party Menu complied from my collection of recipes. A major portion of the menu consists of recipes from Kerala Cuisine. Hope it will be useful for deciding on your HomeMade Christmas Menu. 🙂
Once again, I wish all my readers a Merry Christmas!!!
1. Christmas Special
You can start your lunch or dinner party with a Christmas Special Plum Cake, followed by Home Made Wine. I generally bake cake on the previous day of the Party.
Plum Cake

2. Appetizers
I guess Cutlets with Onion Salad (Sarlas) make the most common appetizer for any Kerala party.
3. Appam with Veg or Non Veg Curry
After the round of appetizers, you can either go for Palappam or Kallappam along with a Vegetarian or Non Vegetarian Gravy of your choice.

Mutton Stew
4. Bread and Curry
After Appam and Curry, the next course would be sliced Bread (usually fresh Bakery Rotti which we get in Kerala) served with another Non Vegetarian Dish. You may skip this course and go directly to the Main Course.
Bakery Bread (Rotti)
Beef Chops
5. Main Course
You can either prepare Fried Rice, Pulav, Ghee Rice or Biriyani for the main course.
Sides for Fried Rice
Here are a few Indo Chinese Sides for Fried Rice.
Side dish for Biryani
If you are making Chicken Biriyani, then you can chose a side dish like Fish Fry. If your making Fish Biriyani or Egg Biriyani, then Chicken Fry will be good.
Side dish for Ghee Rice/Pulav

Ghee Rice is usually served with a spicy Non vegetarian Gravy like Mutton Curry, Chicken Curry or Beef Curry.
Accompaniments for Ghee Rice and Biriyani
For Biriyani and Ghee Rice,  you can prepare any Raitha (Yogurt Mix) and Pappad as an accompaniment.
Raitha – Onion Tomato Raitha

Salad – Onion Salad
Plain Yogurt
Pickle
Pappad
6. Kerala Style Main Course – Rice with Curries

You can also go for Kerala Style Main Course instead of Biriyani and Fried Rice. Rice is served with one main Curry/Gravy, one or more Vegetarian Sides and one or more Non Vegetarian Sides.
Gravies or Curries for Rice
Non Vegetarian Sides for Rice

Non Vegetarian Gravies for Rice

Vegetarian Side Dish for Rice
7. Desserts
I would usually bake a cake on the previous day of the party and buy a few flavors of Icecream. Cake with Ice cream is the best dessert.
Cake with Ice Cream/Whipped Cream

Fruit Salad
Gulab Jamun with Ice Cream
Pudding
8. Touchings for Alcoholic Drinks
For those of you want a few touchings for Alcoholic drinks, you can choose any of the following:-
Enjoy the Holiday Season!!!