Mutton Stew is a mouth watering dish from Kerala made by simmering Mutton in Coconut Milk. Mutton tends to be expensive in Kerala and so people usually prepare it only for special occasions like Christmas and Easter. Appam and Mutton Stew are usually served as a course for Christian Wedding Receptions and other Parties.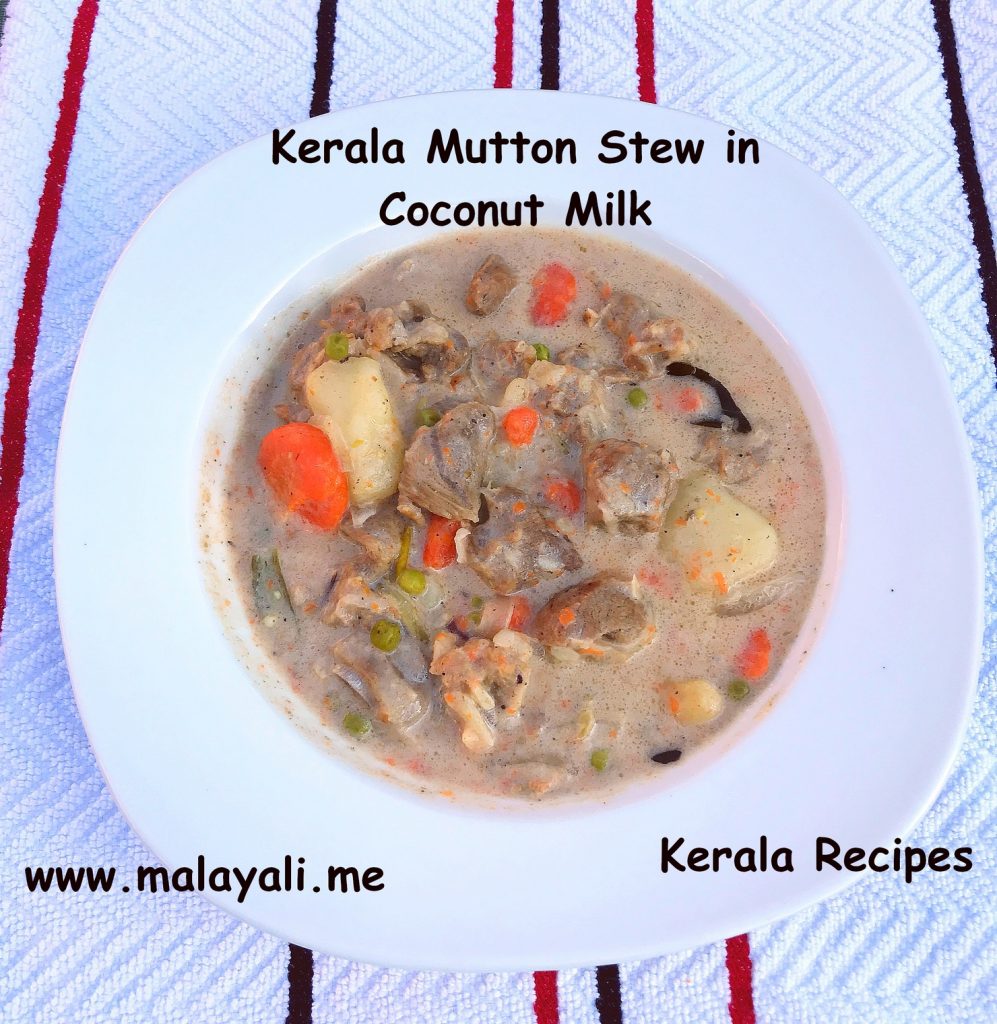 In our home, we cook Chicken and Beef more than mutton. I have occasionally made Mutton Stew and Mutton Biriyani. This is my first recipe for a Mutton dish on this website. Many readers have been requesting me for a mutton recipe and so finally, I decided to make a video.
Here is my first video recipe for Mutton Stew. I am hoping to do more videos but it sure is time consuming.
Ingredients for Pressure Cooking Mutton
Mutton (cubed into curry sized pieces) – 1 kg
Vinegar – 1 tbsp (for soaking)
Potatoes (Peeled & diced) – 1 big (2 cups approx)
Sliced Carrots – 1 big (1 cup approx)
Slit Green Chilies – 2
Crushed Ginger & Garlic – 1 tbsp
Black Pepper Powder – 2 tsp
Salt – 1/2 tbsp
Water – 1 cup
Ingredients for Garam Masala Powder
Cardamom – 4
Cinnamon – 1 stock (2″ long)
Fennel Seeds – 1 tsp
Cloves – 5
Black Peppercorns – 8 to 10
Star Anise – 1
Ingredients for making Stew
Coconut Oil – 2 tbsp
Sliced Onions – 1 big (2 cups approx)
Bay Leaf – 1
Curry Leaves – a sprig
Crushed Ginger & Garlic – 2 tbsp
Whole Cashews – 10 to 12
Thin Coconut Milk – 2 cups
Thick Coconut Milk – 1 cup
Frozen Green Peas – 1 cup
Vinegar – 2 tsp
Salt – to taste
Preparation Method
Clean the mutton by washing it 3-4 times. Soak it in 1 tbsp vinegar for 5 minutes for removing any unwanted smell. Rinse the mutton thoroughly and allow the water to drain.
Pressure cook the mutton in 1 cup of water along with potatoes, carrots, salt, green chillies, crushed ginger and garlic for 4-5 whistles on medium high heat. Keep aside and allow the pressure to subside naturally.
Meanwhile, crush the whole spices for garam masala powder using a Mortar & Pestle (You can also use a spice grinder). Keep aside.
Heat a big wok and add 2 tbsp coconut oil.
Add the finely crushed garam masala powder and saute for 2 minutes.
Next, add the sliced onions and bay leaf to the pan. Saute for a few minutes.
Add a sprig of curry leaves, 2 slit green chillies, 2 tbsp crushed ginger & garlic and a little salt. Saute for a few minutes until the ginger and garlic is fragrant.
Add whole cashews to the pan. Saute for 5-7 minutes until the onions soften
Add the cooked mutton along with it's gravy to the pan. Mix everything.
Gently add 2 cups of thin coconut milk to the pan. Add salt to taste. Stir well. Cover and simmer everything for 10 minutes.
Next, add 1 cup of frozen green peas followed by 1 cup of thick coconut milk. Cover and simmer for 5 more minutes.
Add 2 tsp vinegar to the stew and simmer for a couple more minutes. Remove from heat.
Allow the Mutton Stew to rest for 2-3 hours for the flavors to mingle. Serve with Appam, Idiyappam, Roti etc.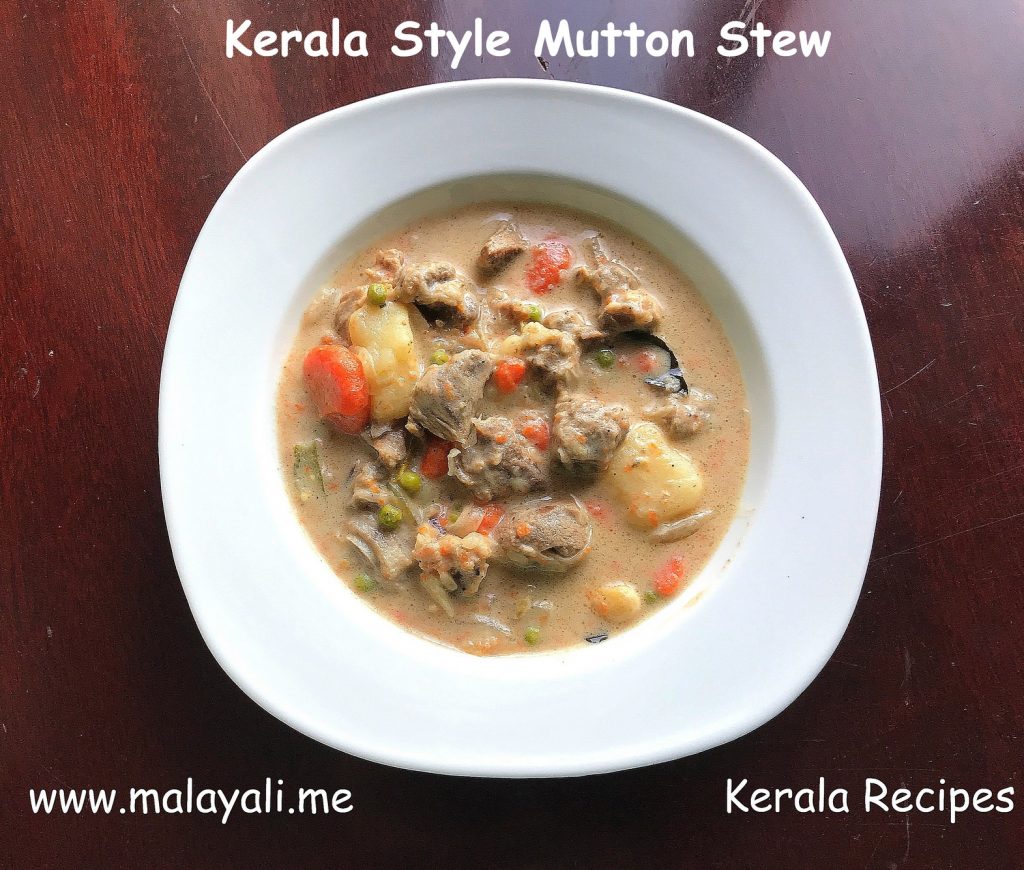 Tips
You can also wash the mutton using a few tablespoons of Atta (Wheat Flour) to remove any unwanted smell. This works as good as vinegar.
I have used Canned Coconut Milk in this recipe for convenience.